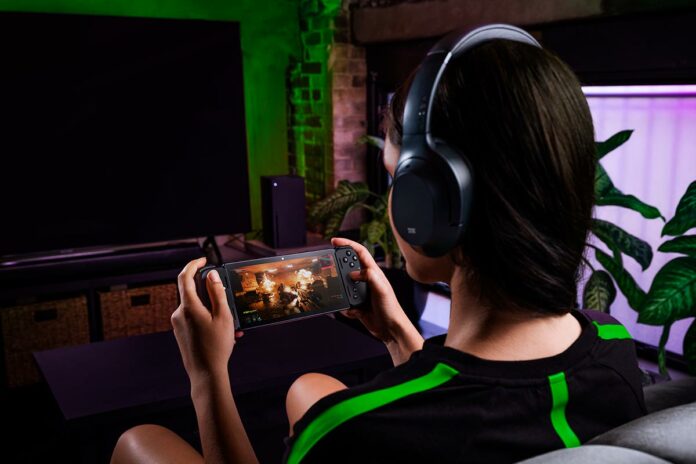 After months of speculation, Razer has announced plans to tackle the world of cloud gaming with the launch of a dedicated handheld early next year.
Razer Edge, powered by a Qualcomm Snapdragon G3x Gen 1 SOC, arrives in January first as a Wi-Fi only model, with a 5G variant to follow at a later date.
Priced from $399.99, Razer Edge packs a 6.8in AMOLED display with a 2400×1080 resolution and 144Hz refresh rate. Effectively a large smartphone form factor, the eye-catching handheld is bundled with a Razer Kishi V2 Pro controller to create a complete on-the-go gaming solution.

In keeping with rivals such as the Logitech G Cloud, Razer's two-part package runs Google Android 12 and a dedicated Razer Nexus dashboard for streaming games from Xbox Cloud Gaming or GeForce Now, as well as locally streamed titles from Steam.
Measuring 260mm x 85mm x 11mm and promising more performance than its immediate competitors, Razer Edge touts 8GB of LPDDR5 memory, 128GB of internal storage (expandable to 2TB via MicroSD), THX-certified speakers, and a 5,000mAh battery. The entire package weighs 401g.

Connectivity includes USB-C charging, Wi-Fi 6E, Bluetooth 5.2 plus a 3.5mm headphone jack embedded within the controller, and at launch Razer will also be offering an exclusive Founders Edition model. Core specifications don't change, but for an extra hundred bucks, the FE includes Razer Hammerhead True Wireless earbuds as part of the bundle.
Dedicated cloud gaming handsets are being positioned as the next big thing for 2023. Expect plenty of players, and going purely by specs, Razer Edge looks a solid showing from a big-name brand. Intrigued? Reservations are now open at Razer.com.