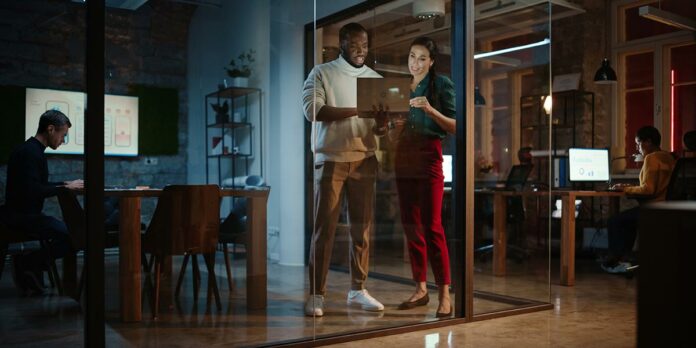 The following text is provided by AMD and published verbatim.
In the hybrid work era, flexibility is the name of the game. Flexibility to work on different schedules. Flexibility to work at the office, away from the office, or in a mix of both. And flexibility to change routines even as they are established.
In many ways, the rules are still being written, adding to continued uncertainty in the workplace. But one certainty remains: to keep up with the changes, commercial laptops must go longer between charges and work harder than their bigger, heavier progenitors.
"In this hybrid work environment, employees are going from home to office frequently," says Mike Jasinski, a product marketing manager at AMD.
"At the office, maybe they're hoteling, so they don't have a dedicated workspace. And that might change throughout the week, the month, or the year."
And that's why AMD is responding to shifting workplace realities with offerings that are ready to go the distance.
The Challenges of Hybrid Work
Hybrid work puts commercial laptops to the test in three key areas: performance, battery life, and portability.
Users need enough processing power to run video collaboration tools in parallel with the latest productivity suites, yet high-performance computing can suck down battery power.
There's no way around it: videoconferencing applications can run through batteries quickly, running the risk of tying professionals down to an outlet rather than allowing them the freedom they need to move, for example, from a desk to a conference room.
It's possible to pack maximum performance and battery life into a beast of a machine. But that would come at the cost of true portability. "You can stick a desktop tower in a suitcase and a monitor in a big canvas bag, but is that ergonomic?" Jasinski asks. "Is that a use case anybody's going to pursue? No."
Meeting Hybrid Workplace Needs
To meet the needs of the hybrid workforce, commercial laptops need processing power, long battery life, and true portability.
"Workers on the move need good portability to take them throughout the day, wherever they're going plugged or unplugged," Jasinski says.
Meeting the need, the latest-generation AMD processors deliver high-performance processing power while preserving battery life, letting laptops remain thin and light.
To that end, built-in intelligent power management delivers all-day battery life — up to 26 hours of battery life[1] in a premium OEM system — to let users multitask on demanding applications as long as necessary while remaining portable. The devices also excel in power optimization for videoconferencing, with up to 29 hours of video playback[2] on a premium OEM system.
"We want to engineer a processor that consumes the least amount of power possible and yet delivers the highest amount of performance possible," Jasinski says of the AMD mission. So, while uncertainty may still reign in the workplace, new work devices are ready to deliver whatever's required for what's next.
Learn more at https://www.amd.com/en/products/ryzen-pro-processors-laptop
---
[1] All battery life claims are approximate. Battery life tested by HP as of 4.7.22, using the Bapco MobileMark 18 benchmark test on an HP Elitebook 865 G9 laptop configured with a 76WHr battery, Ryzen PRO 6850U processor with Radeon graphics, 256GB HDD, 8GB memory, Win 10 Pro, video resolution of 1920 x 1200 x 60 Hz and the power slider set to "better battery." Actual battery life will vary based on several factors, including, but not limited to: product configuration and usage, software, operating conditions, wireless functionality, power management settings, screen brightness and other factors. The maximum capacity of the battery will naturally decrease with time and use. AMD has not independently tested or verified the battery life claim. For more information about HP's published battery life testing and the MobileMark 18 benchmark test, see https://results.bapco.com/fdr/63601890f0f14ab5c99c634be6721d95. RMP-33
[2] Based on testing by AMD Labs as of 4/11/22. Battery life evaluated in hours of continuous 1080p local video playback with a HP Elitebook 865 G9 configured with an AMD Ryzen 7 PRO 6850U processor with Radeon 680M graphics, 76 WHr battery, 150 nit screen brightness, 256GB HDD, 8GB memory, Win 10 Pro, video resolution of 1920 x 1200 x 60 Hz and the power slider set to "better battery." Actual battery life will vary based on several factors, including, but not limited to: product configuration and usage, software, operating conditions, wireless functionality, power management settings, screen brightness and other factors. The maximum capacity of the battery will naturally decrease with time and use. RMP-39