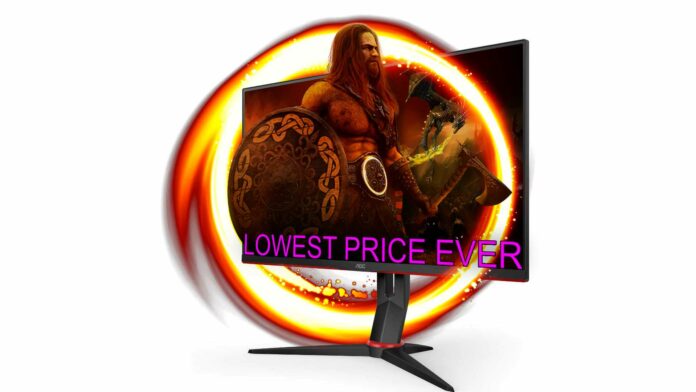 You might own the best gaming PC, but it means very little if your monitor can't keep up. Speedy screen specs no longer cost an arm, but the latest AOC Gaming Q27G2S deal means it also doesn't have to cost a leg.
The AOC Gaming Q27G2S is currently at its lowest price ever on Amazon UK, with a 33 per cent drop. The deal trims the cost down to a much more manageable £179.97 (down from £270), leaving room in the budget for a new mouse if you fancy. It even packs both HDMI 2.0 and DisplayPort 1.4 cables in the box.
What you get is a 27in gaming monitor at 1440p resolution and a smooth 165Hz refresh rate. Putting that in perspective, that's already bigger than most professional gamers use. It's more detailed than HD but without the heft of 4K dragging your frame rate down. And a high refresh rate also makes it a handy console accessory, exceeding the Xbox Series X/S and PS5's beefier specs.
The IPS panel is designed to give you an excellent viewing experience that prioritises accurate colours. It's not quite on the level of OLED, but it's difficult to complain at this price. The 1ms response time also means it shouldn't lag behind the competition, keeping your pixels pinpoint accurate. It packs Adaptive Sync support (Nvidia G-Sync Compatible), which is standard nowadays but keeps your screen's image from tearing.
AOC Gaming Q27G2S 165Hz monitor
---
"A QHD 2K resolution, 165Hz gaming monitor built to display your favourite game with captivating graphics."
We earn a commission if you make a purchase, at no additional cost to you.
The stylish stand offers several points of adjustment. You can tilt, swivel, and pivot until you find your comfort zone, or adjust the height up to 130mm. If you want a cleaner desk, there's also a 100×100 VESA connector to mount it.
You don't even need to wait very long to get your hands on the AOC Gaming Q27G2S. Become an Amazon Prime member, and you can have it on your doorstep with next-day delivery. If you're still not sold, check out what you get with an Amazon Prime subscription.
In the meantime, we'll keep an eye out for more deals. Remember to follow Club386 on Twitter or Facebook so you don't miss out on delicious discounts, and subscribe to our free weekly newsletter to stay in the loop on the latest tech.