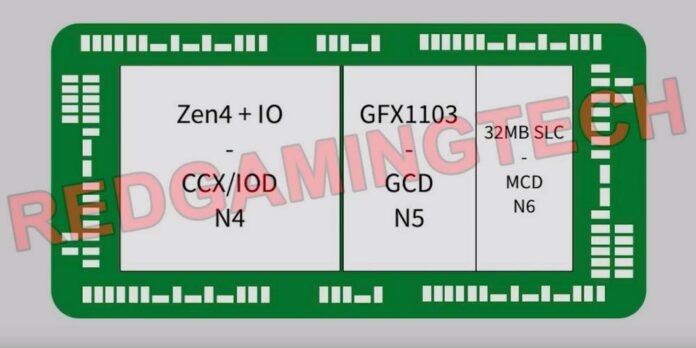 YouTuber RedGamingTech has got some new info on upcoming AMD mobile CPUs code named Dragon Range and Phoenix, including specs, SKUs, and design.
About two months' ago, AMD released an updated roadmap featuring these processors, but with little information. Enter RedGamingTech with his leak/rumour adding some much-needed specs.
Mobile Ryzen 7000 processors are coming in two forms, Dragon Range for high-end laptops thicker than 20mm, and Phoenix for low-power machines thinner than 20mm. All are based on Zen 4 architecture.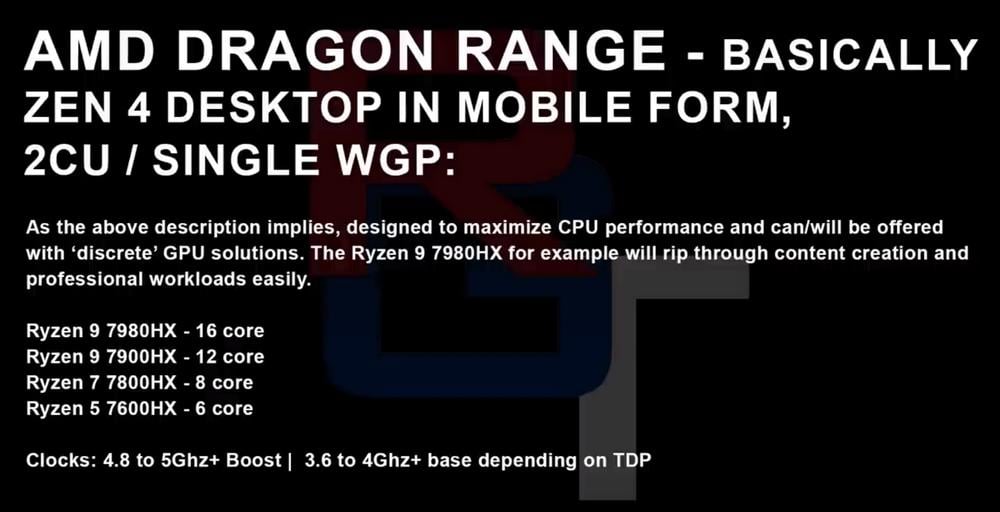 Dragon Range will correspond to Raphael in a laptop version, offered with a dedicated GPU. According to RedGamingTech, it should include at least four SKUs:
AMD Ryzen 9 7980HX 16 cores
AMD Ryzen 9 7900HX 12 cores
AMD Ryzen 7 7800HX 8 cores
AMD Ryzen 5 7600HX 6 cores
Frequency is said to be range between 3.6GHz to 4GHz, culminating at 5GHz in boost mode. These processors are likely to be found in gaming and content creation machines. They should have at least two RDNA 2 CUs (Compute Units), and will therefore be coupled to a powerful mobile graphics card.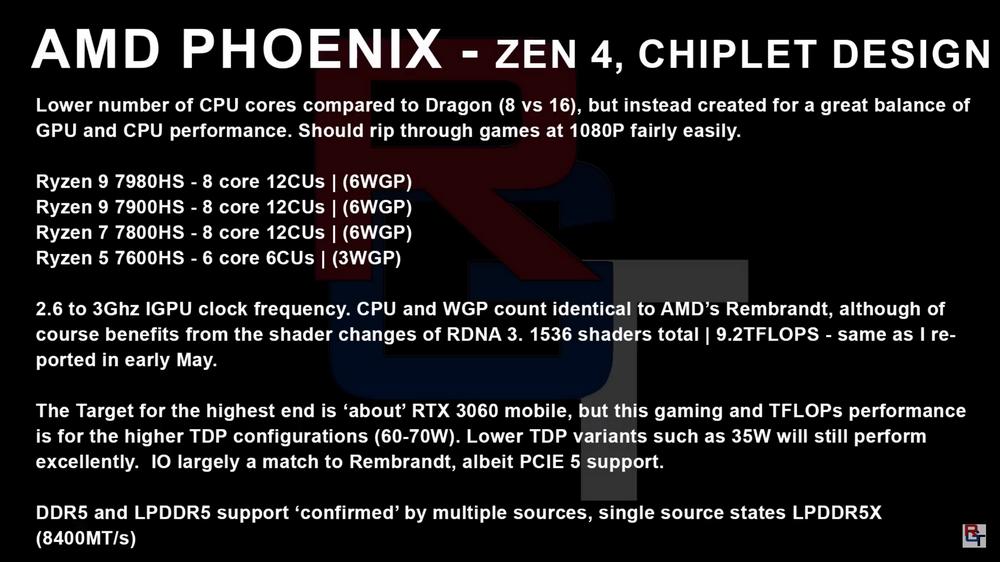 Phoenix, on the other hand, should be more accessible price-wise by offering half the cores but incorporating up to 12 RDNA 3 CUs. According to RedGamingTech, again, at least four variants are planned:
AMD Ryzen 9 7980HS 8 cores and 12 CUs
AMD Ryzen 9 7900HS 8 cores and 12 CUs
AMD Ryzen 7 7800HS 8 cores and 12 CUs
AMD Ryzen 5 7600HS 6 cores and 6 CUs
The iGPU frequency ranges from 2.6GHz to 3GHz, with 1,536 shaders and 9.2TFLOPs.
These Phoenix APUs are balancing CPU (Zen 4) and GPU (RDNA 3) performance and power budget to offer a versatile experience potentially capable of handling 1080p gaming at reasonable frame rates.
RedGamingTech also suggests that at the high-end these APUs can be about as fast as an RTX 3060 mobile but at a higher 60W to 70W TDP.
IF the published design is correct, Phoenix would be AMD's first mobile platform featuring chiplets, with CPU (Zen 4), GPU (RDNA 3) and memory (SLC cache or Infinity cache) united in the same package with an underlying interconnection link.