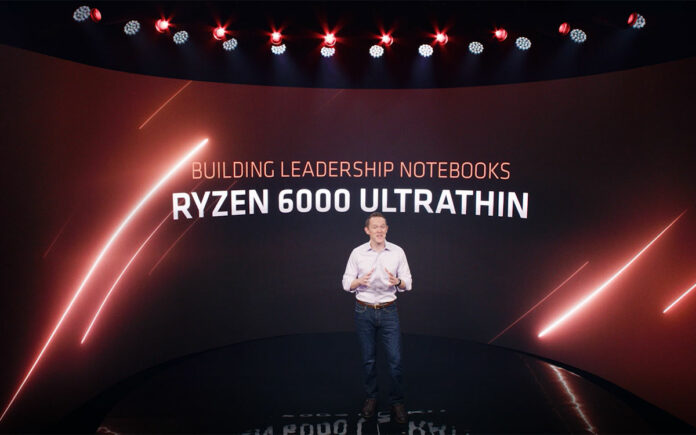 AMD has taken to the virtual stage at Computex 2022 with an opening keynote hinting at ambitious plans to step-up Ryzen product launches in the months and years ahead.
The chip manufacturer has historically struggled to crack the lucrative laptop market, but building good tech was always likely to encourage OEMs and this is now proving to be the case. According to AMD, more than 200 Ryzen-powered laptops will be launched this calendar year, with crucial design wins across all major segments.
Adopting a multi-faceted strategy, AMD is going after Intel in a big way, starting first with Ryzen 6000 Ultrathin laptops that are "ready to work, create, collaborate and even game on the go." Suggesting that the time has come for thin laptops to get onboard with gaming, the recently announced Lenovo Yoga Slim 7 Pro X was used to demonstrate ultrathin 1080p potential.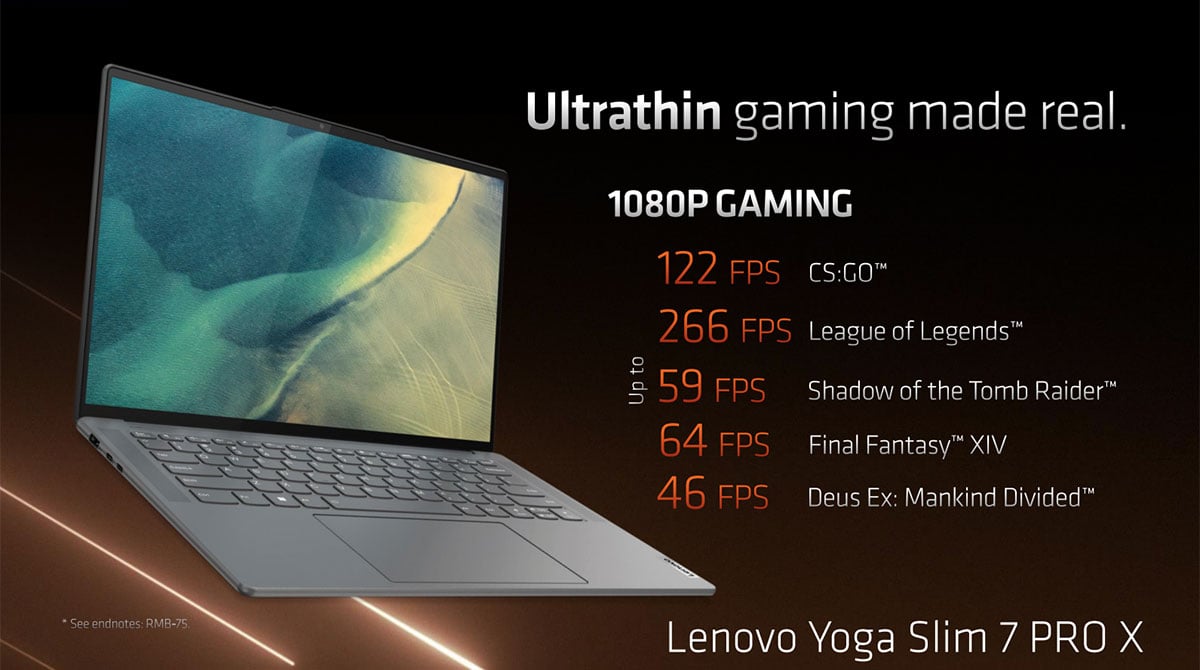 Armed with the Ryzen 7 6800HS processor and RDNA 2-based Radeon 680M graphics, the laptop is shown delivering impressive framerates across a board range of titles, but as is often the case such tests are manipulated to deliver best possible results; in this case AMD benchmarks each game using low-quality image settings.
IGP gaming is nonetheless becoming a more attractive proposition for a wider range of customers, and thin-and-light no longer means a lack of graphics firepower; the above Lenovo measures less than 16mm thick and is but one of 90 Ryzen Ultrathin laptops being brought to retail this year.
Better battery life across the board
Looking further down the ladder to the mainstream market, AMD will also launch a new range of APUs in Q4 codenamed Mendocino. Built on the same 6nm TSMC process as existing Ryzen 6000 mobile parts, the new chips will pair four older Zen 2 cores (eight threads) with an up-to-date RDNA 2 GPU in laptops targeting the $399 to $699 price bracket.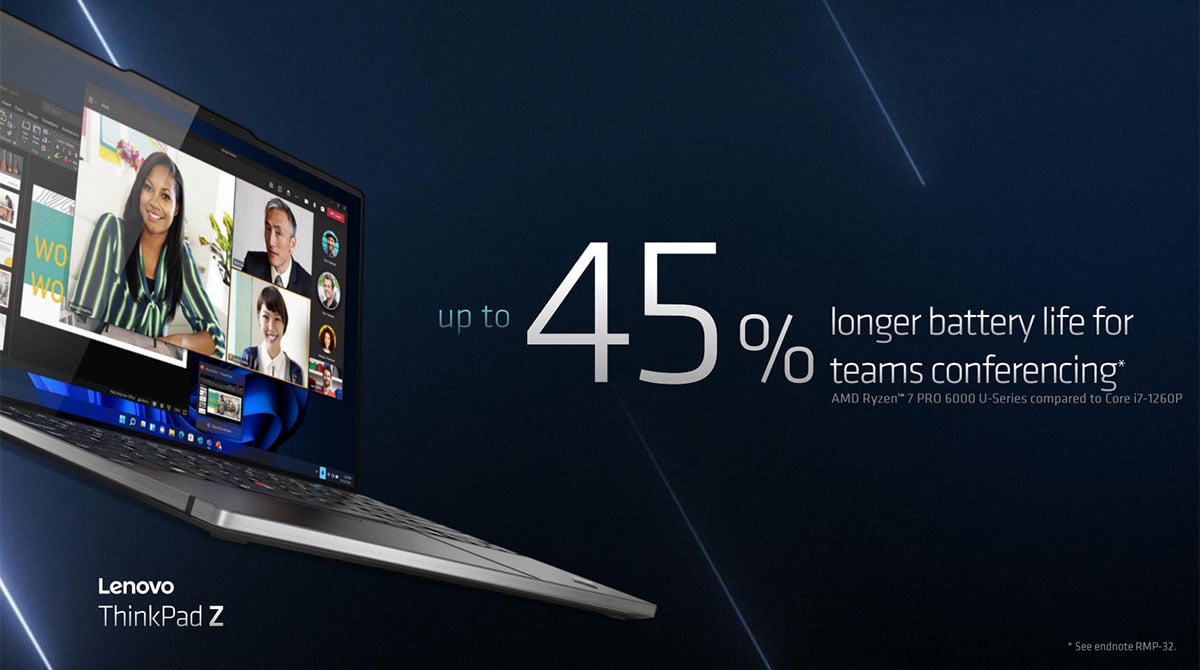 Battery life is a key contributor to AMD's success, and Team Red isn't afraid to make bold claims. We're told to expect mainstream Mendocino-based laptops to offer at least 10 hours of 'mixed-use' longevity, while even greater run times have made Ryzen 7 6000 a popular choice in the commercial sector.
Over 60 commercial Ryzen 6000 Series laptops are said to be launching in 2022 – an increase of 25 per cent year on year – and AMD reckons battery life can be improved by as much as 45 per cent over an Intel equivalent. Any manufacturer-provided numbers should be taken with a pinch of salt, but our own internal testing has shown Ryzen mobile to be relatively efficient compared to the competition.
Corsair joins AMD Advantage
Last but not least, enthusiast laptops are also gathering pace with confirmation that Corsair's first gaming laptop, Voyager, will launch exclusively as an AMD Advantage solution starting this summer. Championing the latest in Ryzen and Radeon mobile technology, Voyager packs a 16in FreeSync Premium 240Hz WQHD+ display and is marketed as a gaming-plus-streaming solution.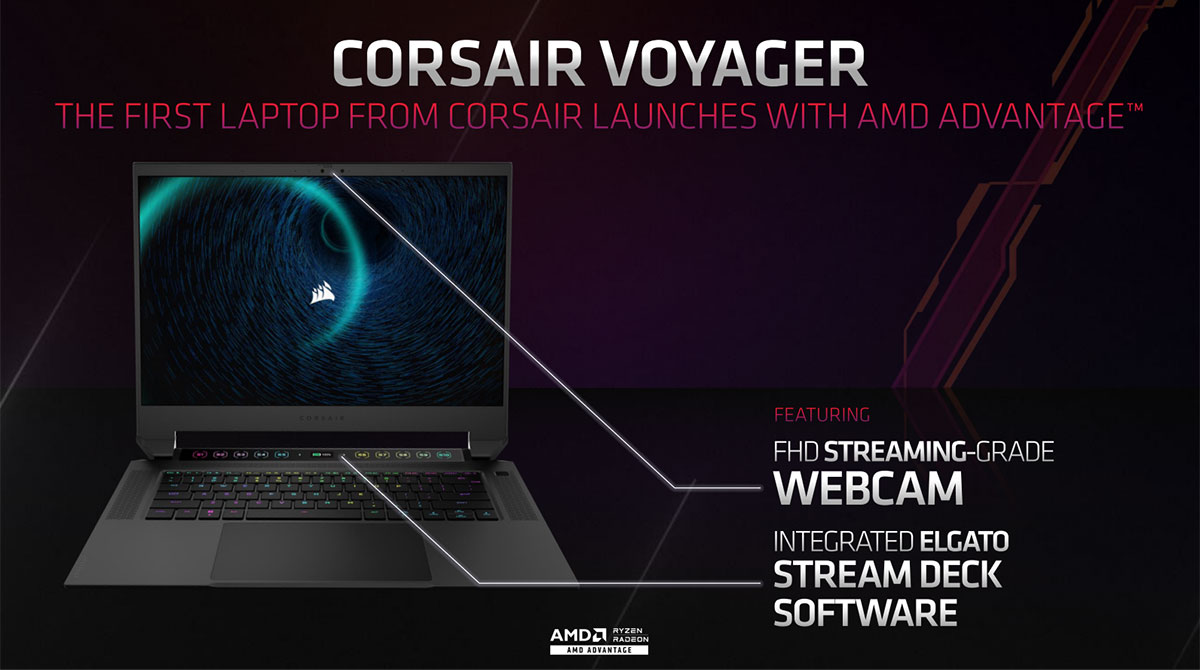 A 1080p Elgato webcam promises better visuals than your average laptop, and a 10-point touch bar dubbed the 'command centre' looks set to offer tidy integration with Elgato's increasingly useful Stream Deck software.
AMD Advantage solutions are built to meet a stringent set of requirements encompassing performance and specification, and include a bunch of existing smarts such as Smart Access Memory, allowing Ryzen CPUs to tap into graphics memory, and SmartShift Max, which uses machine learning to boost performance between CPU and GPU, depending on workload.
Looking ahead, AMD has responded to recent speculation by confirming that Smart Access Storage will soon be joining the fray. A variant of which was first introduced on Xbox games consoles, the Microsoft DirectStorage-based tech will use the power of the GPU to decompress game assets to greatly improve load times.
We can't wait to test and verify some of AMD's claims, but one thing's for certain, the future of Windows laptops is looking particularly bright.