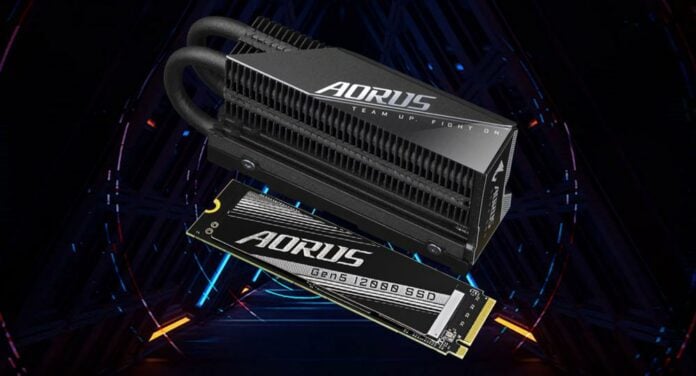 Gigabyte has announced the Aorus Gen5 12000 SSD lineup leveraging PCIe 5.0 x4 throughput and supporting the NVMe 2.0 standard.
Following the already-fast Aorus Gen5 10000 SSD series, Gigabyte is pushing speeds even further, now reaching 12,400MB/s sequential read and 11,800MB/s sequential write on the 2TB model, with, respectively, 11,700MB/s and 9,500MB/s on the smaller 1TB. Either one is plenty fast for all your daily needs.
To deliver this level of performance and capacity, Gigabyte uses 2TB / 1TB of 232-layer 3D TLC NAND flash coupled with 4GB / 2GB of LPDDR4 memory cache, driven by Phison's PS5026-E26 controller. This is standard fare for PCIe 5.0 drives. Note that generally we see 1TB of flash bundled with only 1GB of memory, meaning that Gigabyte's drives could potentially handle data transfer for longer before saturating the cache, thus allowing higher sustained speeds. That said, the only way to find out is through testing.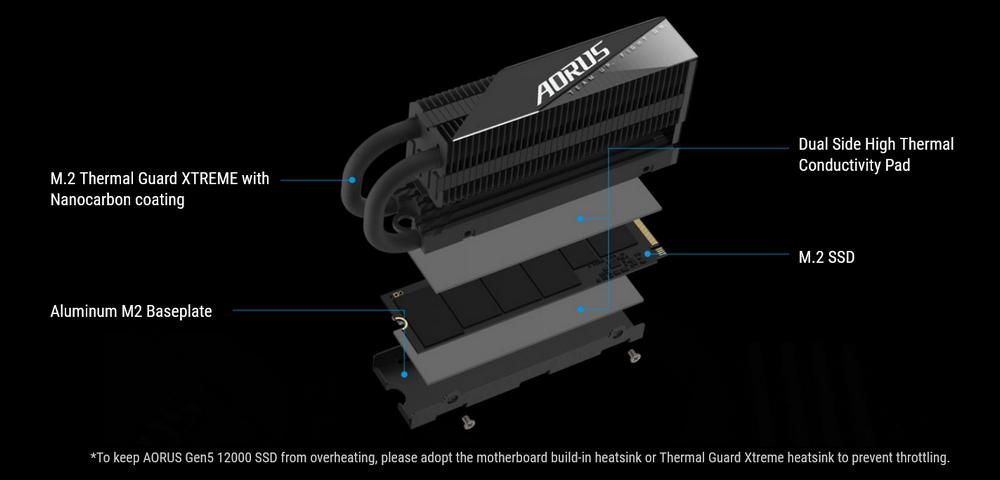 As you know, Gen 5 M.2 SSDs tend to run quite hot due to their insane speeds, thus requiring some kind of cooling to stop the drive from thermal throttling. To this intent, Gigabyte opted for a large passive heatsink boasting two heatpipes for better thermal transfer – a thing that is fairly rare as many brands choose the compact route offered by active cooling, which unfortunately comes with some unwanted noise when implemented poorly.
Like the 10000 series, Gigabyte is releasing two variants of these SSDs, with and without integrated heatsink. The former measures 92mm (L) x 23.5mm (W) x 44.7mm (H), while the latter only tops at 80mm (L) x 22mm (W) x 3.5mm (H), making it a prime candidate for motherboards featuring M.2 heatspreaders or those fancy liquid coolers. Gigabyte claims that its Thermal Guard Xtreme cooler allows these SSDs to stay around 60°C during a five-minute load.
The Aorus Gen5 12000 SSDs are backed by a five-year warranty, with pricing yet to be disclosed.