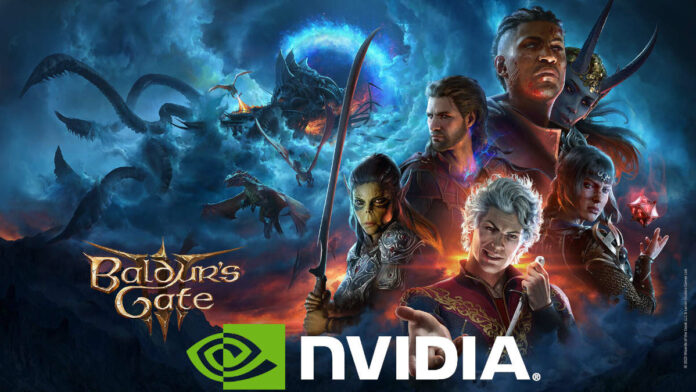 Nvidia has launched Game Ready driver 536.99 WHQL focussing primarily on performance optimisations, improving stability, and squashing bugs across various PC titles. There's also Game Ready support for various games including Baldur's Gate 3 and upcoming titles, The Texas Chain Saw Massacre, and Gord.
In case you've been living under a rock, fantasy RPG Baldur's Gate 3 launched last Friday to rave reviews from both media outlets and the gaming community at large, plus it's selling like hot cakes on both PC and PS5, all the while reaching over 800,000 concurrent players on Steam over the weekend. Possible GOTY, perhaps?
Intel graphics users were among the first to receive "Game On" driver support for the title, and it's good to see Team Green releasing some dedicated optimisations, while AMD has yet to offer similar performance enhancements. In classic Nvidia fashion, the games receives some dramatic performance gains when using DLSS 2, at least according to internal testing.
Take a quick glance at the performance chart above and it's quite evident that mid-to-low tier cards from Nvidia's GeForce RTX 40 Series roster appear to receive the biggest performance benefits when using the temporal upscaling tech in 4K, with settings cranked up to max. The GeForce RTX 4060 Ti sees framerate go up from 35.5fps to 77.9fps, signalling a 119 per cent performance uptick, while the GeForce RTX 4070 quite impressively pumps out 62.9fps on raw performance alone, and manages 129.9fps with DLSS 2 on, equalling a 107 per cent performance boost. Impressive.
Additionally, seeing as cloud-based gaming is all the rage right now, users can enjoy a smooth 4K, 120fps gameplay experience when playing Baldur's Gate 3 on GeForce Now Ultimate-tier. Finally, additional optimisations have been put in play prepping users for the imminent release of The Texas Chainsaw Massacre – an asymmetric, third-person horror game set for release on August 18, and Team 17's single player RTS romp, Gord, debuting on August 17. So many games, so little time.
Nvidia's Game Ready Driver Driver 536.99 WHQL is available for download here.
For your convenience, the official changelog can be viewed down below:
Game Ready
Baldur's Gate 3
The Texas Chain Saw Massacre
Gord
GeForce Experience Optimal Settings
Exoprimal
Jagged Alliance 3
Lost Judgment
Portal: Prelude RTX
Ratchet & Clank: Rift Apart
Remnant 2
Fixed Issues
[Control][DX12] Cut scenes and videos show tearing and partial jitter [4084000]
[Battlefield 2042] Game stability can decrease when applying GeForce Experience Freestyle filters. [4170804]
[GeForce Experience] Game stability can decrease when applying a GeForce Experience Freestyle filter in certain games while using DLSS 3 Frame Generation [4171660]
[Dead Space] Game stability issues [4140545]
Potential audio issues with NVIDIA Broadcast effects for Elgato Wave Link
Known Issues
[Halo Infinite] Significant performance drop is observed on Maxwell-based GPUs. [4052711]
[DaVinci Resolve] This driver implements a fix for creative application stability issues seen during heavy memory usage. We've observed some situations where this fix has resulted in performance degradation when running DaVinci Resolve. This will be addressed in an upcoming driver release. [4172676]