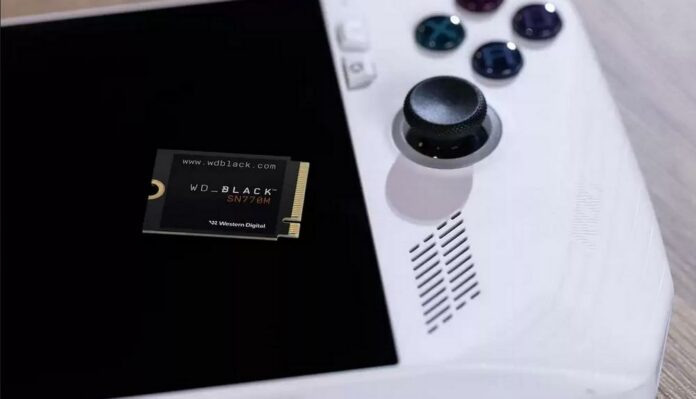 Western Digital has announced the WD Black SN770M NVMe SSD series targeting compact machines and gaming handhelds, delivering excellent performance in a tight package. Steam Deck and Asus ROG Ally owners rejoice.
The WD Black SN770M is available in 500GB, 1TB, and 2TB, all taking the M.2 2230 format found generally on space-constrained machines such as the Steam Deck or ROG Ally. This makes it a perfect upgrade for owners looking for high capacity and performance at the same time, since unlike Micro SD expansion cards, the SN770M offers much higher performance using a PCIe 4.0 interface.
Performance that Western Digital claims reaching up to 5,000MB/s in sequential read and 4,000MB/s in sequential write on the 500GB model, 5,150MB/s read and 4,900MB/s write on the 1TB, and 5,150MB/s read and 4,850MB/s write on the 2TB. Random IOPS are said to hit 460K/800K, 740K/800K, and 650K/800K, respectively, for read and write on the 500GB, 1TB, and 2TB models. Good all-around numbers, which are plenty for feeding any handheld.
Regarding durability, WD announces 300TBW, 600TBW, and 1,200TBW, respectively, that's on par with competing products, meaning you can download and update games for years without issue. In other words, this is a compacted WD Black SN770 desktop drive that's tailored for handheld devices.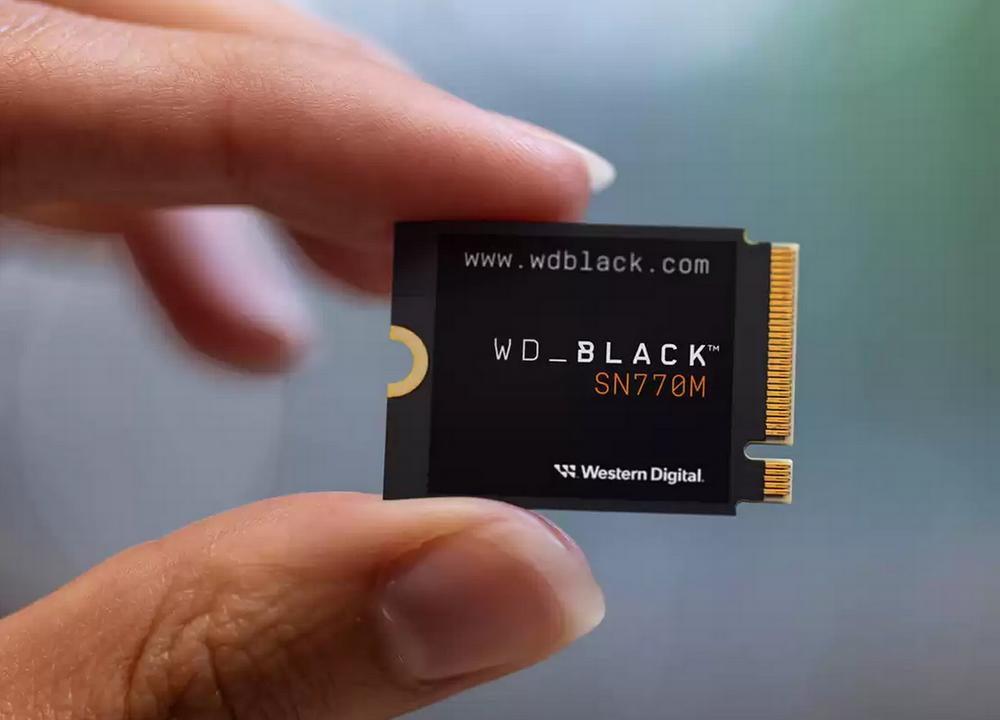 Easy on Ally
By the way, if you are upgrading your ROG Ally, you don't even need backup files. Just swap the SSD and turn on the machine to be presented with the BIOS – since no OS is installed. There go to 'Advanced Mode' then 'Advanced' and select 'Asus Cloud Recovery'. You should be asked to connect a Wi-Fi to download the required files directly from Asus's servers. Follow the steps and you should be good to go; just don't forget plugging your handheld into power.
"With game sizes continually becoming larger, it's easy for handheld game consoles to fill up over time with new games and regular updates," said Eric Spanneut, vice president of client SSDs for Western Digital. "The new WD_BLACK SN770M NVMe SSD boosts available storage up to 2TB and is specifically designed to handle the peak performance of demanding games for handheld gaming PCs."
Backed by a five-year warranty, the WD Black SN770M NVMe SSDs are available at £70.99 / $74.99 / €81.99 for 500GB capacity, £103.99 / $109.99 / €119.99 for 1TB, and £198.99 / $219.99 / €228.99 for 2TB, i.e. much cheaper than the launch prices of their wider siblings.