Synology, best known for its award-winning range of network-attached storage solutions, is updating its budding range of routers with the release of the RT6600ax.
The long overdue update brings Synology's hardware into the Wi-Fi 6 era and touts a quad-core 1.8GHz processor, 1GB of onboard DDR3 memory and half-a-dozen antennas; 4×4 MIMO omni-direction for the 5GHz band, plus a further 2×2 for 2.4/5GHz.
Built to address a "massive rise in connected devices and the resulting necessity to protect users against ever-increasing security threats," the Taiwanese firm is one of the first to tap into the newly available 5.9GHz spectrum for a maximum theoretical wireless throughput of 6.6Gbps.
Wi-Fi performance continues to progress, yet Synology hasn't pushed the boat out in the wired department. RT6600ax comes equipped with three Gigabit Ethernet ports, plus just one 2.5GbE configurable as either LAN or WAN. A solitary USB 3.2 Gen 1 Type-A completes port selection.
From a hardware perspective the 175mm x 320mm x 200mm router can be deemed a modest performer compared to rivals, yet it is in the software department that Synology typically manages to impress. Going by past experience, the SRM operating system is among the best in the business (if not the best), and does a much better job than most of managing a home/office network experience.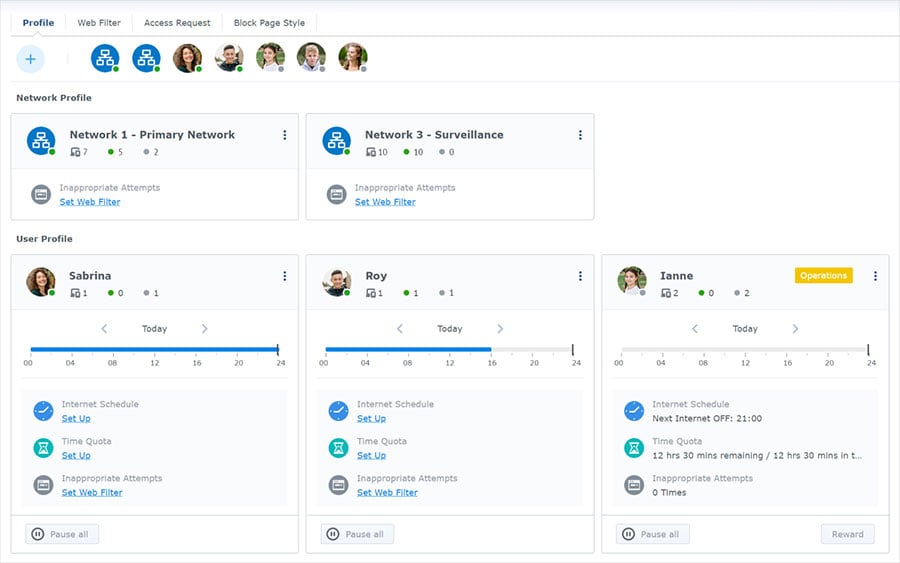 SRM 1.3, launched in tandem with the new router, brings with it an option to create up to five separate networks and 15 SSIDs to better manage myriad connected devices. Per-user profiles also offer fine-grained control over who has network access at any given time, including parental controls that do a decent job of filtering out inappropriate content.
An option to combine two or more RT6600ax routers in a mesh configuration also exists, though do be aware that compatibility doesn't yet extend to prior Synology releases. SRM 1.3 won't be coming to the MR2200ac and RT2600ac until later this year, and you'll have to wait until then to use, say, an RT6600ax and RT2600ac in tandem.
The RT6600ax is expected to make its way to store shelves in Australia, Canada, Europe, Japan, New Zealand, Taiwan, and the United States as of this week, and though Synology hasn't listed an MSRP, we expect the router to fetch somewhere in the region of £300 on UK shores.